A safe secure flexible option for storage.
Handy 24/7 storage, you can store your household products or business items in our large, robust and weatherproof storage containers, which are clean dry and easily accessible.
Finally, while it's in your possession, the container is your responsibility. Our storage compound is very secure and monitored by CCTV however you will need to make your own arrangements for insuring any goods stored.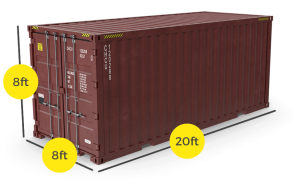 Why rent a site storage container from Ark?
Handy storage on your own premises, saving you travelling to a storage facility
Easy access to your items
Low cost, from just £30* per week
Strong, weatherproof storage
Perfect for use during house refurbishment or building work
Ideal for garden furniture, machinery and sports equipment, especially if there's no space in your garage, or for businesses with excess or out-of season stock, tools and equipment, and archived files
Spacious 30 cubic metre ISO standard containers (20ft x 8ft x 8ft)
More Information
If you'd like more information about our storage container hire service, please call a member of the team today on 01823 256546 or message us.